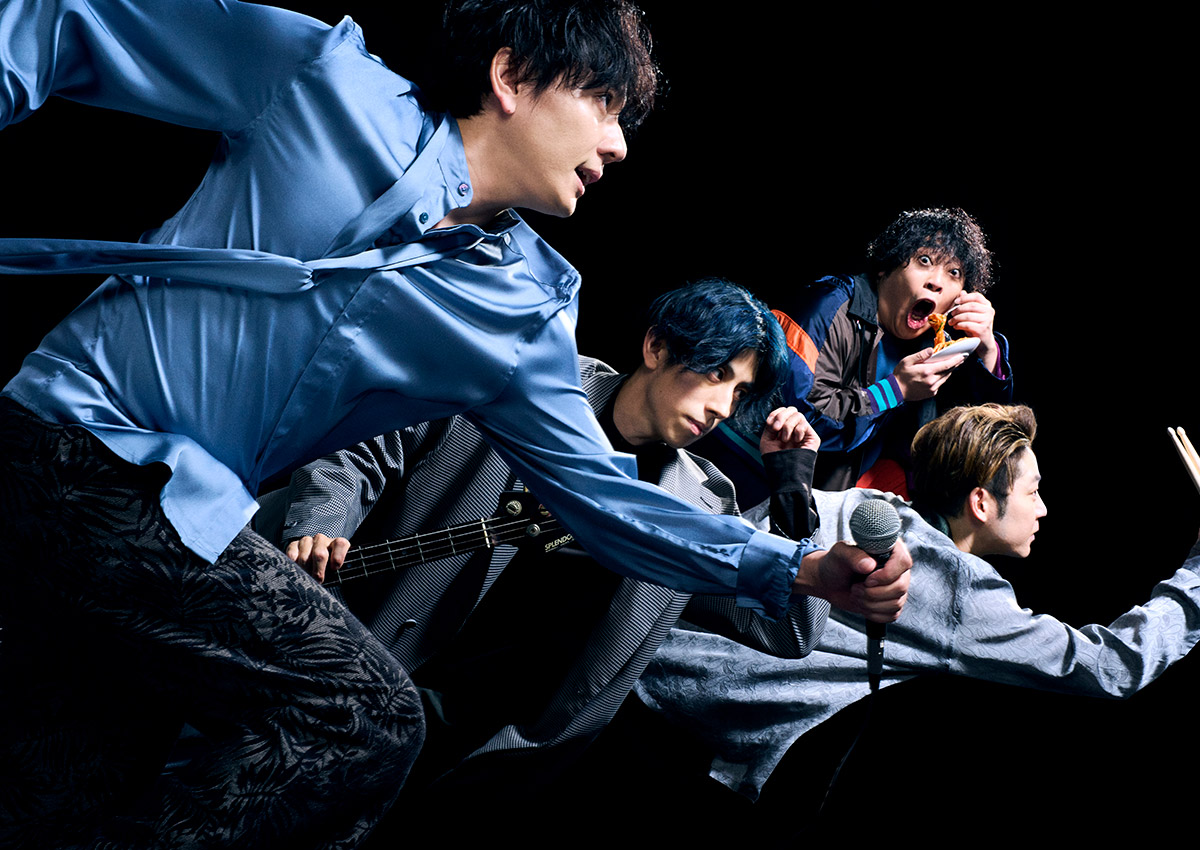 Ryuta Yamamura(Vo)
Birth Date:1985.01.21
Blood Type:A

Kazuki Sakai(Gt)
Birth Date:1985.02.26
Blood Type:AB

Genki Amakawa(Ba)
Birth Date:1984.11.27
Blood Type:A

Seiji Ogura(Dr)
Birth Date:1984.02.27
Blood Type:O
Ryuta Yamamura (Vocal), Kazuki Sakai (Guitar), and Genki Amakawa (Bass) were performing as an acoustic band and later, Seiji Ogura (Drums) joined to form flumpool in January, 2007.

In 2008, their first single (online downloading only) "Hana ni nare" was taken for au "LISMO!" TV commercial which was vastly broadcast, and there were a million of downloads for just first 10 days (now 2 millions). The second online downloading single "Over the rain~Hikari no hashi~" was the theme song of the TBS drama "Bloody Monday" and also got the high ranking in the music chart. In November, 2008, they released their first mini album "Unreal", and it got number 2 in the Oricon album chart in the week of the release. They actually became the number 1 new band in 2008.

On February 19th, 2009, their first one-man live tour "flumpool tour 2009 "Unreal"" (6 places and 7 performances) started. Despite of the exclusive ticket sale in advance on their official website, there were 100,000 entries, and the tour was very successful. In the same month, they released their first CD single "Hoshi ni negaiwo" which was no tie-up song and got number 2 in the Oricon single chart. In July, 2009, the CD single "MW~Dear Mr. & Ms. Picaresque~ / Natsu Dive" got number 3 and Live DVD "How did we feel then?~flumpool tour 2009 "Unreal" Live at Shibuya Club Quattro~" which was released on the same day got number 1 in the music DVD chart.
The tickets for their first concert hall tour all over Japan, 18 places and 19 performances, kicking off on July 8th were sold out as soon as starting selling. In the summer of 2009, they participated music fes. and event such as ROCK IN JAPAN Fes 2009 and so on.
On October 22nd and 23rd, they made it Nippon Budokan Lives and the tickets for the both days were sold out as a flash. Finally, they released their first full album "What's flumpool !?" in December which got number 2 in the chart. On December 31st, they appeared in NHK's 60th Kohaku Utagassen which is the most nationwide popular TV music program.

In February, 2010, the CD single "Zanzou" was released, and in the same month, Live DVD "flumpool tour 2009 "Unclose" Special!! Live at Nippon Budokan" was released and got the consecutive number 1 in the music DVD chart.
On March 5th, their first large-scale national tour, 40 places and 46 performances, started.
In June, the CD single (their 7th single including the online download ones) "reboot~Akiramenai Uta~ / Nagareboshi" was released and got number 2 in the chart. In September, the CD single "Kimi ni todoke" which was the theme song of the same titled movie was out and got number 2 in the chart. They made it their 5 consecutive singles getting in the top 3 in the chart. In December, their arena live tour at OSAKA JO Hall and YOKOHAMA ARENA was greatly successful (all tickets were sold out immediately). On December 31st, they performed at their 2nd time NHK's 61st Kohaku Utagassen.

Their second album "Fantasia of Life Stripe" was released on January 26th, 2011 and marked number 2 in the Oricon weekly album chart for 3 consecutive albums. Their 3rd live DVD "flumpool Live at YOKOHAMA ARENA!! Special Live 2010 Snowy Nights Serenade ~Kokoro mademo tsunagitai~" was released on April 6th, and they started 4th nationwide tour "Fantasia of Life Stripe~Bokutachi wa kokoni iru~" on April 9th.
On July 27th, single "Donnna mirainimo ai wa aru / Touch" was released. On September 7th, single "Akashi" was released. This song was exclusively written for NHK "School Music Competition #78, Junior High school category" and sung by a million students in all over Japan. It was also picked as the song of NHK "Minna no uta" played in August and September.
And on December 7th, new single "Present" was released. On December 10th and 11th, they performed in Saitama Super Arena for "Special Live 2011 "Present" ~Arigato Matsuri! Koyoi wa utao! odoritsukuso! ~". Very exciting shows with 32,000 audience. On December 31st, they perfomed in one of the national TV program "Kohaku Utagassen" which was their 3rd consecutive year.

In March 2012, flumpool held their biggest ever nation wide tour in 42 places for 52 performances『5th tour 「Because... I am」』. Until September,the whole half an year, there were 100,000 people who came to the show.Also, in July, the theme of this tour『Because... I am』had driven a great attention since it became the theme song of the TBS drama 「Resident~gonin no kenshui」. After the single 『Answer』was release, they al so released their 1st album in 2 years - 『experience』.

2013 January, they held 4 Days live in Yokohama Arena, Osakajo Hall. The beginning of their 5th year since debut, they drove 40,000 audiences to their performance. In March, the album was released in Taiwan, Singapore and Hong Kong, also had their first even Taiwan solo live concert.Not only the live performance, but also the Chinese MC all the way, had caused a great reaction.What's more, in July flumpool is releasing the Double A Side Single 「Taisetsunamono ha kimiigainimiataranakute/ Binetsu Refrain」.Moreover,the 5th year anniversary since debut will be on the 1st and 2nd October. 『5th Anniversary Special 2Days Live「For our 1,826 days & your 43,824hours」』will be held in Nippon Budoukan.And they have also made the first collaboration song with the popular rock band in Chinese society "Mayday"-「Belief ~Haru wo matsukimie~」will be the theme song of the movie 「Oshin」that's out in October.