flumpool Special Live 2013"experience"at YOKOHAMA ARENA
Blu-ray/DVD
2013.4.24 Release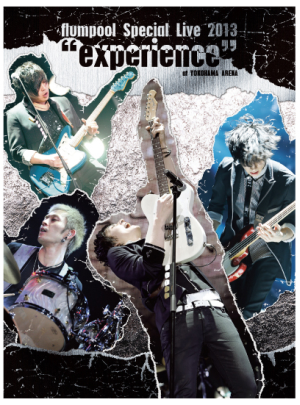 | | |
| --- | --- |
| | 1. Donna mirai nimo ai ha aru |
| | 2. Touch |
| | 3. Kimi ni todoke |
| | 4. Natural Venus |
| | 5. The great escape |
| | 6. Kotoshi no sakura |
| | 7. Akashi |
| | 8. Boku ha koko ni iru |
| | 9. Sprechchor |
| | 10.Kasashita no kimi ha… |
| | 11.two of us |
| | 12.Kakusei Identity |
| | 13.Because... I am |
| | 14.reboot ~Akiramenaiuta~ |
| | 15.Premium girl |
| | 16.Iijanai? |
| | 17.Hoshini negaiwo |
| | 18.Answer |
| | 19.Hana ni nare |
| | 20.36℃ |
●Blu-ray ver. ¥6,381 JPY(excluding tax) / AZXS-1002  Product type:Blu-ray(main)+DVD(Privilege video)
●DVD ver.    ¥5,429 JPY(excluding tax) / AZBS-1011 Product type:2 DVD package(main+privilege video)

DISC‐2:Privilege Video (About 60 mins)
< The precious video of their first Taiwan live & documentary >
Included the concert – "experience -First experience in Taiwan" and the footage of the live & documentary of the members.